BFACF Job Circular 2020: Bangladesh Folk Art & Crafts Foundation (BFACF) has released a job circular on February 01, 2020. According to the current circular, they are looking for the recruitment of Accountant & Office Assistant-Cum-Computer Typist post.
The interested job seekers may download [PDF] official circular notice from the official website (www.sonargaonmuseum.gov.bd). However, you can also go through this article to know more about বাংলাদেশ লোক ও কারুশিল্প ফাউন্ডেশন হিসাবরক্ষক এবং অফিস সহকারী-কাম-কম্পিউটার মুদ্রাক্ষরিক বিজ্ঞপ্তি নিয়োগ ২০২০.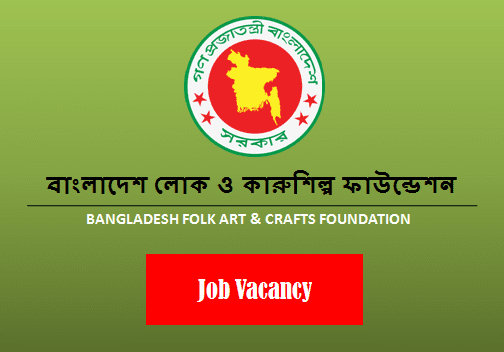 Traditional folk art and crafts of Bangladesh are an integral part of our culture. This is a symbol of our ethnic identity and traditions of the past. The continuity of folk lifestyle of Bengal, Visual aesthetics in life & our dreams are all embodied in the craft.
Bangladesh Folk Arts and Crafts Foundation was established in 1975 for looking back at our past, To base the present on a solid foundation of the past and finding the right destination for the cultural future.
BFACF Job Circular 2020
Name of the Organization: Bangladesh Folk Art & Crafts Foundation (BFACF)
Position: Accountant & Office Assistant-Cum-Computer Typist
Job Location (City): Bangladesh
Salary: Tk. 11,590-26,590 to Tk. 9,300-22,490
Employment Duration: Full time
Important Dates:
Starting Date of Application: February 02, 2020
Deadline of Application: February 16, 2020
Submission Process: Via (Teletalk)
Eligibility:
Education: কোন স্বীকৃত বোর্ড হতে অনন্য উচ্চ মাধ্যমিক সার্টিফিকেট অথবা সমমানের পরীক্ষায় উত্তীর্ণসহ প্রতি মিনিটে মুদ্রাক্ষর লিখনে বাংলায় ২০ ও ইংরেজিতে ২০ শব্দের গতিসহ কম্পিউটার অপারেটিং অভিজ্ঞতাসম্পন্ন প্রার্থীকে অগ্রাধিকার দেওয়া হবে। এছাড়াও বিশ্ববিদ্যালয় হতে বাণিজ্য অনুষদের অন্তর্ভুক্ত যেকোনো বিষয়ে দ্বিতীয় শ্রেণী সম্মানসহ স্নাতকোত্তর ডিগ্রি।
Age: Maximum 18 to 30 years as on 16.02.2020
Experience: Check the Job Circular
Extra Knowledge: Check the Job Circular
How to Apply:
আগ্রহী প্রার্থীগণ http://bfacf.teletalk.com.bd/ ওয়েবসাইটে আবেদন ফরম পূরণ করতে পারবেন আবেদনের সময়সীমা অর্থাৎ শেষ তারিখ ও সময় ১৬-০২-২০২০ বিকাল ০৫:০০ টা।
উক্ত সময়সীমার মধ্যে User ID প্রাপ্ত প্রার্থীগণ Online এ আবেদনপত্র SUBMIT সময় থেকে পরবর্তী ৭২ ঘণ্টার মধ্যে SMS পরীক্ষার ফি জমা দিবেন।
উল্লিখিত পদগুলির জন্য প্রার্থীকে পরীক্ষার ফি বাবদ ১০০ (একশত) টাকা এবং টেলিটকের সার্ভিস চার্জ বাবদ ১২ টাকা সহ মোট ১১২ টাকা জমা দিতে হবে।