SSC Result 2020 Jessore Board: Board of Intermediate and Secondary Education, Jessor (মাধ্যমিক ও উচ্চ মাধ্যমিক শিক্ষা বোর্ড, যশোর) SSC marksheet can be download from www.jessoreboard.gov.bd. However, the Jessore Board SSC Result 2020 is likely to be released on 6th May 2020. এসএসসি-২০২০ পরীক্ষার ফলাফল আগামী মে ২০২০ তারিখ দুপুর ১:০০ টায় প্রকাশ করা হবে.
Jessore Board SSC Rescrutiny Result 2020

SSC Result 2020 Jessore Board
We went to www.jessoreboard.gov.bd SSC Corner to find any latest news on SSC Result 2020. We have found a notice, according to this notice, "The Jessore Board SSC Result 2020 will be announced on May 2020 at 1:00 P.M. However students of Jessore Education Board may download their SSC result in various ways.
In 2017, a total 154730 number of students have appeared in the Secondary School Certificate (SSC) examination, where 78679 number of boys and 76051 of girls sat for this exam. On an average, the total pass percentages were 79.56%.
 Now there is 2708 number of recognized Schools another 160 number of temporarily recognized schools and 523 number of colleges under BISE, Jessore. As a matter of fact, the board mainly responsible for holding three public examinations (SSC, JSC, and HSC) and for providing recognition to the newly established non-government educational institutions. (HSC Result 2019 Bangladesh).
www.jessoreboard.gov.bd SSC Result 2020
Jessore Education Board claimed, they have their own result checking system. In reality, they do not have any. Instead, they have only board analytics. However, if they developed any system before the result, please check the following steps below.
Jessore Board SSC Result 2020 with Marksheet
There is another way to download to download or print SSC Result 2020 Jessore Education Board with Marksheet. eboardresults.com allow us to access the "result" database of Bangladesh Education Board.
Open a web browser and type: www.educationboardresults.gov.bd (Web Based Result).
Click on  Examination : SSC Equvalent Exam.
Select Examination = SSC/Dakhil/Equivalent
The Examination Year should be 2020.
Select your Board Name = Jessore
Now select Result Type = Individual Result.
Enter your Roll Number _______________
Optional: You may enter your registration number.
After the security, captcha click on "Get Result"
After the successful execution of your query, you result shall display on the page, at this step you may download or print Jessore SSC Result 2020 with Marksheet. Note: to know more about Marksheet, you may check our Education Board Result Marksheet page for updates.
Jessore Board SSC Result 2020 Via SMS
1) Compose New Message and type: SSC <space> then FIRST 3 letter of your Jessore education board <space> SSC Roll Number <space> 2020.  Please include a space between the parameter values.
2) So the SMS format will be << SSC JES 521001 2019 >>
2 ) Send this message to 16222 number.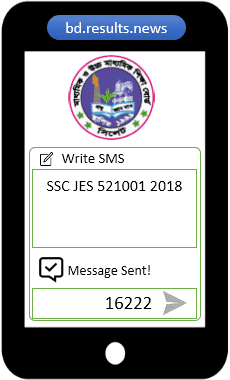 SMS Result
 MD.SHAHIDUL ISLAM,MALE Roll:521001,Reg:1113436070 SSC,2019-19,BUSINESS STUDIES,REGULAR GPA:3.63,P 101:B ,107:C ,109:A ,127:B ,111:B ,142:A ,146:B ,143:A ,134:A+ :JB
Jessore Board SSC Result Performance
| | | | | | |
| --- | --- | --- | --- | --- | --- |
| No. of Students \ Year | 2017 | 2016 | 2015 | 2014 | 2013 |
| Total Student | 154730 | 148165 | 128183 | 129226 | 118327 |
| Total Male | 78679 | 75753 | 65528 | 65985 | 60270 |
| Total Female | 76051 | 72412 | 62655 | 63241 | 58057 |
| Total Passed | 123099 | 136135 | 107902 | 119223 | 109619 |
| Passed Male | 61027 | 69269 | 55110 | 61054 | 55902 |
| Passed Female | 62072 | 66866 | 52792 | 58169 | 53717 |
| Passing Percentage | 79.56 | 91.88 | 84.18 | 92.26 | 92.64 |
| Total Secured GPA 5.00 | 6484 | 9496 | 7198 | 10968 | 9101 |
| Total Male GPA 5.00 | 3540 | 5108 | 4137 | 6143 | 5177 |
| Total Female GPA 5.00 | 2944 | 4388 | 3061 | 4825 | 3924 |
2017=79.56
2016=91.88,
2015=84.18,
2014=92.26,
2013=92.64
See Also
External Links