RAKUB Job Circular 2020: Rajshahi Krishi Unnayan Bank (RAKUB) has released a job circular on January 20, 2020. According to the current circular, they are looking for the recruitment of Senior Officer (২০১৮ সাল ভিত্তিক) post.
The interested job seekers may download [PDF] official circular notice from the official website (www.rakub.org.bd). However, you can also go through this article to know more about রাজশাহী কৃষি উন্নয়ন ব্যাংক সিনিয়র অফিসার (২০১৮ সাল ভিত্তিক) বিজ্ঞপ্তি নিয়োগ ২০২০.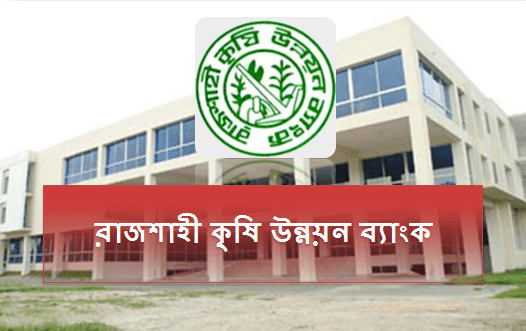 Rajshahi Krishi Unnayan Bank (RAKUB) was established by the President's Ordinance No. 58 of 1986 (later replaced by 'Rajshahi Krishi Unnayan Bank Act, 2014').
It took over the operations of 253 branches of Bangladesh Krishi Bank of the then Rajshahi administrative division (presently Rajshahi and Rangpur divisions) and started functioning on March 15, 1987. There are 381 branches of the bank including LPO and Dhaka branch among which 194 are in Rajshahi and 185 in Rangpur division.
RAKUB Job Circular 2020
Name of the Organization: Rajshahi Krishi Unnayan Bank (RAKUB)
Position: Senior Officer (২০১৮ সাল ভিত্তিক)
Job Location (City): Bangladesh
Salary: Tk. 22,000 to Tk. 53,060
Employment Duration: Full time
Important Dates:
Starting Date of Application: January 20, 2020
Deadline of Application: February 04, 2020 at 11:59 PM
Submission Process: Via (erecruitment.bb.org.bd)
Eligibility:
Education: কোনো স্বীকৃত বিশ্ববিদ্যালয় হতে স্নাতকোত্তর ডিগ্রি অথবা চার বছর মেয়াদি স্নাতক/স্নাতক (সম্মান)/সমমান ডিগ্রি থাকতে হবে। মাধ্যমিক স্কুল সার্টিফিকেট সমমান এবং তদুর্ধ্ব পর্যায়ের পরীক্ষাসমূহে ন্যূনতম ০২ (দুই) টিতে প্রথম বিভাগ/শ্রেণী থাকতে হবে। গ্রেডিং পদ্ধতির ফলাফলের ক্ষেত্রে সরকারি নীতিমালা প্রযোজ্য। কোন পর্যায়েই তৃতীয় বিভাগ।শ্রেণী গ্রহণযোগ্য হবে না।
Age: মুক্তিযোদ্ধার সন্তান এবং প্রতিবন্ধী প্রার্থী ব্যতীত সকল প্রার্থীদের ক্ষেত্রে সর্বোচ্চ ৩০ বছর। মুক্তিযোদ্ধার সন্তান এবং প্রতিবন্ধী প্রার্থীদের ক্ষেত্রে সর্বোচ্চ ৩২ বছর।
Experience: Check the Job Circular
Extra Knowledge: Check the Job Circular
How to Apply:
Online Application Form: শুধুমাত্র বাংলাদেশ ব্যাংকের নিয়োগ সংক্রান্ত ওয়েবসাইট https://erecruitment.bb.org.bd/  এর অনলাইন এপ্লিকেশন ফরম পূরণের মাধ্যমে আবেদন করতে হবে। অনলাইনে আবেদন দাখিলের সময় ফরম পূরণ করার নিয়ম ও অন্যান্য শর্তাবলী ওয়েবসাইটে পাওয়া যাবে।
NEEDED DETAILS TO FILL APPLICATION FORM
প্রার্থীর বিবরণ (Candidate details)
প্রার্থী স্থায়ী ঠিকানা (Permanent address of the candidate)
ছবি (Photo)
স্বাক্ষর (Signature)
অর্জিত ডিগ্রির ফলাফলের তারিখ (Date of results of the degree obtained)
বিদেশি ডিগ্রিধারী প্রার্থী (Candidates with a foreign degree)