Education Board Result Marksheet 2022-2023. Candidates can download full mark sheet of Bangladesh Education Board Examination Result 2022-2023. We allow students ➽➽ to download result mark sheet ➽➽ print marksheet ✓ View full mark sheet online.

Education Board Result Marksheet 2022-2023
Students are using online web portals like www.educationboardresults.gov.bd and web-based result publication system to download Marksheets. This is very important to note that, "Downloading marksheet from on line, will not be treated as ORGINAL marksheets.  Education Board just helping students to check their subjects scores.
Once you hit on the "SUBMIT" button, you will see the score of each subject like below.  I would suggest you download marksheet from the page for future use, or you can also make a printout of the Marksheet.
Students who are not able to download the Marksheet online due to an Internet connection, should not worry about the result. Candidates can collect it from their respective schools.
এসএসসি-২০২১ পরীক্ষার ফলাফল আগামী ০৬-০৫-২০২১ তারিখ দুপুর ১:০০ টায় প্রকাশ করা হবে.
The Education Board Result 2022 with Marksheet will be available online. Click
www.educationboardresults.gov.bd
" to view result online. Like our
Facebook page
to get updates.

Sl. No.
Name of the Subjects
Letter Grade
Grade Point
Grade Pont Avg. (GPA)
1.
Bengali
A
4

4.00

2.
English
A+
5
3.
Mathematics
B
3
4.
General Science
A
4
5.
Religion (Islam)
A
4
6.
Geography
A
4
7.
History
A
4
8.
Economics
A
4
9.

Additional Subjects

A
4
NOTE: *This above marksheet is just a demo copy, this should not be the same with your Original Marksheet.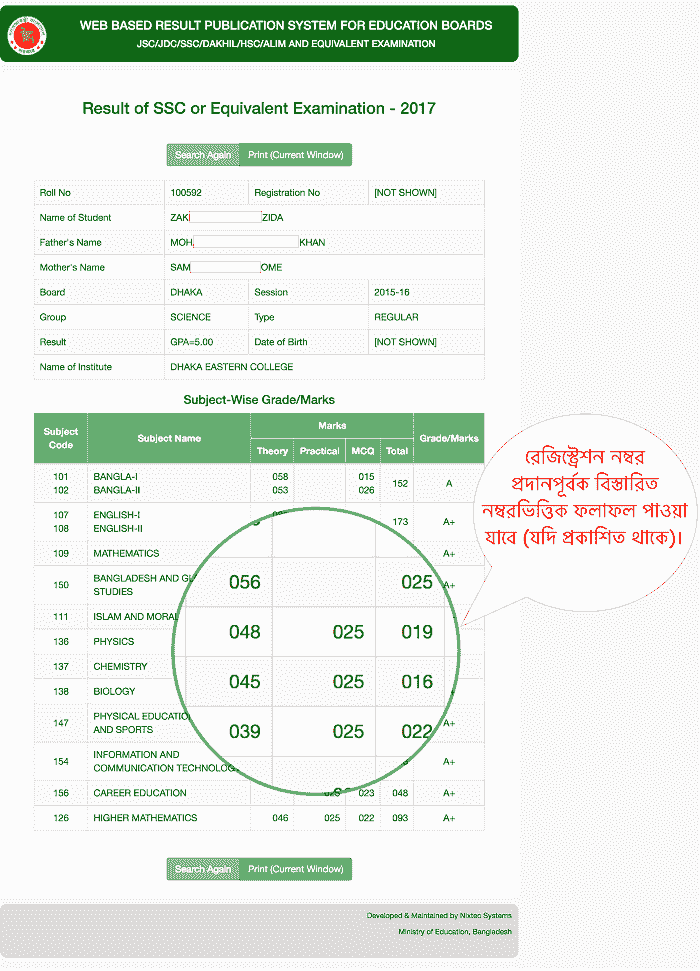 How to get the Mark-sheet:
As I said the marksheet from online will not be treated as a valid mark sheet. So the question is, "how to get the valid marksheet"?
After Education Board Result is published, students may check result online for their marks in each subject. The Education Board of Bangladesh sends all hard copy marksheets to respective boards. Note there are total of nine boards in Bangladesh listest below.
After receiving the mark sheet the following board simply transfers these to their respective schools. At this point the journey of marksheet is complete. Last but not the least, the schools hand over to the students.
 GPA as Scores in Bangladesh Education Board Result Mark sheet:
GPA system is used to calculate the Scores in the Bangladesh Education Board Result Mark sheet: If you see the result you will find the score displayed there with " A ", " A+ ", " B "  etc.  now, what does it mean, If you did not understand we will make it easy for you. In Bangladesh, a GPA 3.5 out of 5 for SSC & HSC consider as First Class. 
In the same in SSC, HSC annual exam results, First Class, Second Class, Pass and Failed Division has been calculated.
| | | |
| --- | --- | --- |
| Class Interval | Letter Grade | Grade Point |
| 80-100 | A+ | 5 |
| 70-79 | A | 4 |
| 60-69 | A- | 3.5 |
| 50-59 | B | 3 |
| 40-49 | C | 2 |
| 33-39 | D | 1 |
| 0-32 | F | 0 |
How to Download Education Board Result Marksheet (Video)

See also
External Links