DEWBN Job Circular 2020: Dockyard and Engineering Works Limited (DEWBN) has released a job circular on January 30, 2020. According to the current circular, they are looking for the recruitment of Project Engineer (Civil) post.
The interested job seekers may download [PDF] official circular notice from the official website (www.dewbn.com). However, you can also go through this article to know more about ডকইয়ার্ড অ্যান্ড ইঞ্জিনিয়ারিং ওয়ার্কস লিমিটেড প্রজেক্ট ইঞ্জিনিয়ার (সিভিল) বিজ্ঞপ্তি নিয়োগ ২০২০.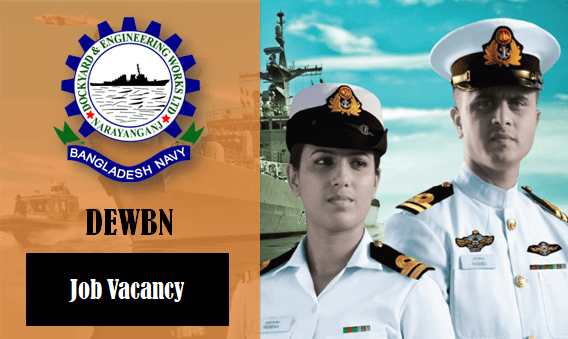 Dockyard and Engineering Works Ltd (DEW) was established on the banks of Shitalakshya in Narayanganj by The British Government in 1922. During that time, this country was ruled by the British Government. After their departure in 1947, the fate of Bangladesh was stringed up with Pakistan.
The dockyard was then handed over to Pakistan Industrial Development Corporation (PIDC) from the ownership of Royal Indian Marine Services (RIMS). Later on, the name of this yard was changed from 'Dockyard Limited' to 'Dockyard and Engineering Works Limited' in 1956.
DEWBN Job Circular 2020
Name of the Organization: Dockyard and Engineering Works Limited (DEWBN)
Position: Project Engineer (Civil)
Job Location (City): Bangladesh
Salary: ২৯,৬০০-১২৮০-৪৭,৫২০
Employment Duration: Full time
Important Dates:
Starting Date of Application: January 30, 2020
Deadline of Application: February 16, 2020
Application Type: Offline
Submission Process: Via (Direct/By Post/Courier)
Eligibility:
Education: স্বীকৃত বিশ্ববিদ্যালয় হতে বিএসসি ইঞ্জিনিয়ারিং (সিভিল) অথবা ডিপ্লোমা ইঞ্জিনিয়ারিং (সিভিল)।
Experience: বিএসসি ইঞ্জিনিয়ারিং এর ক্ষেত্রে কমপক্ষে ০৫ (পাঁচ) বছরের পূর্ত কাজের বাস্তব অভিজ্ঞতা এবং ডিপ্লোমা ইঞ্জিনিয়ারিং এর ক্ষেত্রে কমপক্ষে ১০ (দশ) বছরের পূর্ত কাজের বাস্তব অভিজ্ঞতা সম্পন্ন।
Extra Knowledge: Check the Job Circular
How to Apply:
আবেদনকারীকে প্রকল্প পরিচালক ডকইয়ার্ড অ্যান্ড ইঞ্জিনিয়ারিং ওয়ার্কস লিমিটেড, সোনাকান্দা, বন্দর, নারায়ণগঞ্জ বরাবর আবেদন করতে হবে।
আবেদন ফরম মহিলা বিষয়ক অধিদপ্তরের ওয়েবসাইট হতে সংগ্রহ পূর্বক আগামী ১৬-০২-২০২০ তারিখ অফিস চলাকালীন সময়ের (৯.০০ ঘটিকা হতে ৫.০০ ঘটিকা পর্যন্ত) মধ্যে উল্লিখিত ঠিকানায় ডাকযোগে প্রেরণ করতে হবে।
নির্ধারিত তারিখের পর কোন আবেদনপত্র গ্রহণ করা হবে না।অসম্পূর্ণ, ত্রুটিপূর্ণ এবং বিলম্বে আবেদন কোন কারণ দর্শানো ব্যতিরেকেই বাতিল বলে গণ্য হবে। মেট্রন পদে শুধুমাত্র মহিলা প্রার্থীরাই আবেদন করতে পারবে।
০৪ (চার) কপি সদ্য তোলা সত্যায়িত পাসপোর্ট সাইজের ছবি
শিক্ষাগত যোগ্যতার সত্যায়িত সনদপত্র
অভিজ্ঞতার সত্যায়িত সদনপত্র
জাতীয় পরিচয়পত্র-এর সত্যায়িত কপি
সংশ্লিষ্ট ইউনিয়ন পরিষদ চেয়ারম্যানের নিকট হতে গৃহীত নাগরিক/চারিত্রিক সনদপত্র