BBS Job Circular 2020: Bangladesh Bureau of Statistics (BBS) has released a job circular on July 16, 2020. According to the current circular, they are looking for the recruitment of Designer, Electrician, Accountant & etc. (নক্সাবিদ, ইলেকট্রিশিয়ান, হিসাব রক্ষক) post.
The interested job seekers may download [PDF] official circular notice from the official website (www.bbs.gov.bd). However, you can also go through this article to know more about বাংলাদেশ পরিসংখ্যান ব্যুরো নক্সাবিদ, ইলেকট্রিশিয়ান, হিসাব রক্ষক বিজ্ঞপ্তি নিয়োগ ২০২০.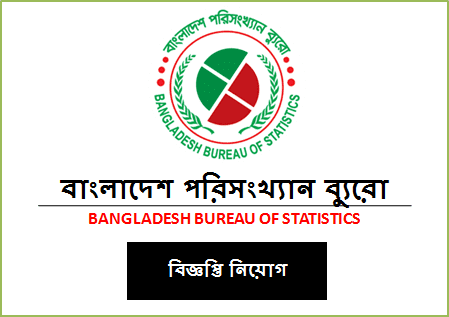 Although independent statistical programs had existed in the country before, they were often incomplete or produced inaccurate results, which led the Government of Bangladesh establishing an official bureau in August 1974, by merging four of the previous larger statistical agencies, the Bureau of Statistics, the Bureau of Agriculture Statistics, the Agriculture Census Commission and the Population Census Commission.
BBS Job Circular 2020
Name of the Organization: Bangladesh Bureau of Statistics (BBS)
Position: Designer, Electrician, Accountant & etc. (নক্সাবিদ,  ইলেকট্রিশিয়ান, হিসাব রক্ষক)
Job Location (City): Bangladesh
Salary: ১১,৩০০ – ২৭,৩০০ টাকা।
Employment Duration: Full time
Important Dates:
Starting Date of Application: July 16, 2020 at [10:00 AM]
Deadline of Application: September 15, 2020 at [05:00 PM]
Submission Process: Via (bbs.teletalk.com.bd)
Eligibility:
Education: ৮ম শ্রেণি/এসএসসি/ড্রাফসম্যানশিপে ডিপ্লোমা/এইচএসসি পাশ/স্নাতক বা সমমানের ডিগ্রি।
Age: Maximum 18-30 years as on 03.02.2020
Extra Knowledge: Check the Job Circular
How to Apply:
এই বিজ্ঞপ্তির অধীনে পরীক্ষায় অংশগ্রহণে ইচ্ছুক প্রার্থীগণ বাংলাদেশ পরিসংখ্যান ব্যুরো ওয়েবসাইটে http://bbs.teletalk.com.bd/ অথবা http://www.bbs.gov.bd/ আবেদনপত্র পূরণ করতে পারবেন। আবেদনের সময়সীমা ১৫ সেপ্টেম্বর ২০২০ তারিখ বিকাল ০৫:০০ ঘটিকা।
উক্ত সময়সীমার মধ্যে USER ID প্রাপ্ত প্রার্থীগণ ONLINE এ আবেদনপত্র SUBMIT এর সময় থেকে পরবর্তী ৭২ (বাহাত্তর) ঘণ্টার মধ্যে SMS এর মাধ্যমে পরীক্ষার ফি জমা দিতে পারবেন।
ONLINE এ আবেদনপত্রে প্রার্থী তার স্বাক্ষর ও রঙিন ছবি SCAN করে নির্ধারিত স্থানে UPLOAD করবেন। বিস্তারিত জানার জন্য অবশ্যই জব সার্কুলারটি করুন।
প্রার্থীর বিবরণ, প্রার্থীর স্থায়ী ঠিকানা, ছবি (Photo), স্বাক্ষর (Signature), অর্জিত ডিগ্রির ফলাফলের তারিখ, বিদেশি ডিগ্রিধারী প্রার্থী, প্রতিষ্ঠিত পছন্দের ক্রোম প্রভৃতির ব্যাপারে বিস্তারিত জানার জন্য Job Circular টি চেক করুন।