Bangladesh Bank Job Circular 2020: Bangladesh Bank (BB) has released a job circular on February 23, 2020. According to the current circular, they are looking for the recruitment of Senior Officer (সিনিয়র অফিসার) (লিগ্যাল অফিসার) post.
The interested job seekers may download [PDF] official circular notice from the official website (www.bb.org.bd). However, you can also go through this article to know more about বাংলাদেশ ব্যাংক "সিনিয়র অফিসার (লিগ্যাল অফিসার)" বিজ্ঞপ্তি নিয়োগ ২০২০.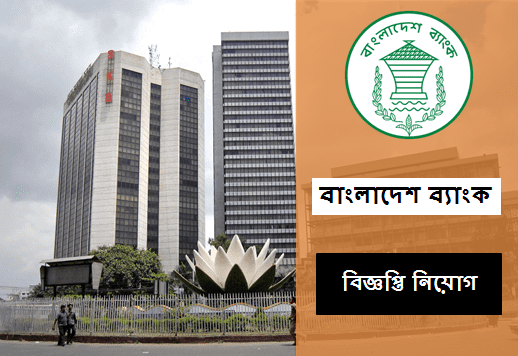 Bangladesh Bank, the central bank and apex regulatory body for the country's monetary and financial system, was established in Dhaka as a body corporate vide the Bangladesh Bank Order, 1972 (P.O. No. 127 of 1972) with effect from 16th December, 1971.
At present it has ten offices located at Motijheel, Sadarghat, Chittagong, Khulna, Bogra, Rajshahi, Sylhet, Barisal, Rangpur and Mymensingh in Bangladesh; total manpower stood at 5807 (officials 3981, subordinate staff 1826) as on March 31, 2015.
Bangladesh Bank Job Circular 2020
Name of the Organization: Bangladesh Bank (BB)
Position: Senior Officer (সিনিয়র অফিসার)
Job Location (City): Bangladesh
Salary:জাতীয় বেতন স্কেল 2015 এর অধীনে, 22,000-53,060 টাকা।
Employment Duration: Full time
Important Dates:
Starting Date of Application: January 20, 2020 at 10:00 AM
Deadline of Application: March 08, 2020 at 11:59 PM
Submission Process: Via (

erecruitment.bb.org.bd

)
Eligibility:
Education: স্বীকৃত কোনো বিশ্ববিদ্যালয় হতে স্নাতকোত্তর ডিগ্রি অথবা ৪ বছর মেয়াদী স্নাতক/সমমান ডিগ্রি থাকতে হবে।
Age: Maximum 30 years as on 01.07.2019. মুক্তিযোদ্ধার সন্তান এবং প্রতিবন্ধী প্রার্থীদের ক্ষেত্রে সর্বোচ্চ ৩২ বছর।
Experience: Check the Job Circular
Extra Knowledge: Check the Job Circular
How to Apply:
Online Application Form: শুধুমাত্র বাংলাদেশ ব্যাংকের নিয়োগ সংক্রান্ত ওয়েবসাইট https://erecruitment.bb.org.bd/ এর অনলাইন এপ্লিকেশন ফরম পূরণের মাধ্যমে আবেদন করতে হবে। Online এ আবেদন দাখিলের সময় ফরম পূরণ করার নিয়ম ও অন্যান্য শর্তাবলী ওয়েবসাইটে পাওয়া যাবে।
পরীক্ষার ফি অফেরতযোগ্য ২০০/- টাকা যা ডাচ বাংলা ব্যাংক লিমিটেড এর Payment Gateway "রকেট" এর মাধ্যমে প্রদান করতে হবে।
Candidate Details: প্রার্থীর নাম, পিতা ও মাতার নাম, এসএসসি অথবা সমমানের সদনে যেভাবে লেখা আছে অনলাইন আবেদনের ঠিক সেভাবেই লিখতে হবে।
প্রার্থীর বিবরণ, প্রার্থীর স্থায়ী ঠিকানা, ছবি (Photo), স্বাক্ষর (Signature), অর্জিত ডিগ্রির ফলাফলের তারিখ, বিদেশি ডিগ্রিধারী প্রার্থী, প্রতিষ্ঠিত পছন্দের ক্রোম প্রভৃতির ব্যাপারে বিস্তারিত জানার জন্য Job Circular টি চেক করুন।