BAEC Job Circular 2020: Bangladesh Atomic Energy Commission (BAEC) has released a job circular on February 09, 2020. According to the current circular, they are looking for the recruitment of Medical Officer (মেডিকল অফিসার) post.
The interested job seekers may download [PDF] official circular notice from the official website (www.baec.gov.bd). However, you can also go through this article to know more about পরিবার পরিকল্পনা অধিদপ্তর শিক্ষা মেডিকল অফিসার বিজ্ঞপ্তি নিয়োগ ২০২০.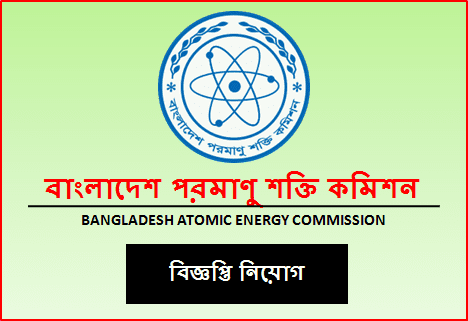 Bangladesh Atomic Energy Commission (BAEC) was established in 1973 as a multidisciplinary R&D organization with the view of promoting peaceful uses of nuclear energy in Bangladesh.
From the very beginning of its formation, BAEC started R&D works in areas covering physical science, bioscience, engineering and nuclear medicine for human welfare and economic uplift of the country.
BAEC Job Circular 2020
Name of the Organization: Bangladesh Atomic Energy Commission (BAEC)
Position: Medical Officer (মেডিকল অফিসার)
Job Location (City): Bangladesh
Salary: Grade 09 – টাকা 22000 – 53060
Employment Duration: Full time
Important Dates:
Starting Date of Application: June 17, 2020
Deadline of Application: July 15, 2020
Application Type: Offline
Submission Process: Via (Direct/Hand)
Eligibility:
Education: এসএসসি অথবা এইচএসসিতে প্রথম বিভাগসহ কমপক্ষে 60% নম্বরপ্রাপ্ত এমবিবিএস ডিগ্রিধারী হতে হবে।
Age: Maximum 30 years as on 15.07.2020
Experience: নিউক্লিয়ার মেডিসিন বিষয়ে অভিজ্ঞ/ডিগ্রিধারী প্রার্থীগণকে অগ্রাধিকার দেওয়া হবে।
Extra Knowledge: Check the Job Circular
How to Apply:
আবেদনপত্র অগামী ১৫ জুলাই ২০২০ তারিখ অফিস চলাকালীন সময়ের মধ্যে জিইপি/রেজিষ্ট্রি ডাক/কুরিয়ার সার্ভিসযোগে সচিব, বাংলাদেশ পরমাণু শক্তি কমিশন, পরমাণু ভবন, ই-১২/এ, আগারগাঁও, শেরেবাংলা নগর, ঢাকা-১২০৭ বরাবর পৌছাতে হবে। নির্ধারিত তারিখ উত্তীর্ণের পর ডাকযোগে বা অন্য কোন ভাবে প্রাপ্ত আবেদনপত্র প্রেরণ করা হবে না।